Joined

Jan 14, 2018
Messages

22
Hello everyone, and welcome to round 3 of the 0.4.8 release candidates!
This build adds some new features and fixes some crashes that occurred in RC2
Changes since RC2:
Basic savegame functionality (with quick- & autosave)

One autosave slot (allows you to resume the previous session from the main menu)
One quicksave slot per terrain
Five global savegame slots (can also be used to quickly access your favourite terrain)

Which support automatic terrain switching
Whose shortcuts are also available in the main menu

New -resume command line argument (automatically restores the last autosave)

Can be combined with the -map command line argument (to restore the quicksave)

Added real-time top menu settings
Added multiplayer collision
Added analogue input smoothing/sensitivity settings
New FOV reset shortcut (Default: SHIFT+NUMPAD7)
Realistic forward commands (New setting that allows you to disable the 'close proximity' forward command logic. Realistic Forward commands -> you can only 'remote control' trucks which are connected in some way)
Added Soft reset (The new soft reset allows you to translate and rotate entire groups of actors without doing an actual reset. Default: 'EXPL+APOSTROPHE')
Added new pause mode(The new pause mode allows you to 'freeze/unfreeze' the physics of individual actors. Default: 'END')
Fixed particle issue during truck reset
Fixed an issue with wheels2 in multiplayer
For more changes see the other RC threads
RC1:
http://forum.rigsofrods.org/threads/test-build-version-0-4-8-rc1.939/
RC2:
http://forum.rigsofrods.org/threads/test-build-version-0-4-8-rc2.999/
Multiplayer collisions in action:
Real-time top menu settings: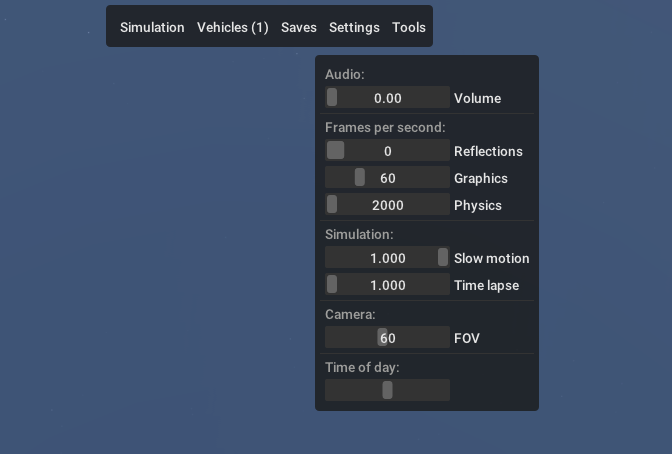 Important
Note to itch.io app users: the game will be automatically updated to RC3, no need to (re)install RoR
Download with the itch.io desktop app (Recommended)
With the desktop app, the latest build will be automatically downloaded and installed
Also, only the changed files will be downloaded instead of the complete game.
Download and install the itch.io desktop app: itch - Download and play indie games - itch.io
Login into the itch.io app.
Restart your PC after you have successfully logged in
When you launch the game for the first time, it will first install some dependencies
You can still download it without the app here:
https://rigs-of-rods.itch.io/rigs-of-rods