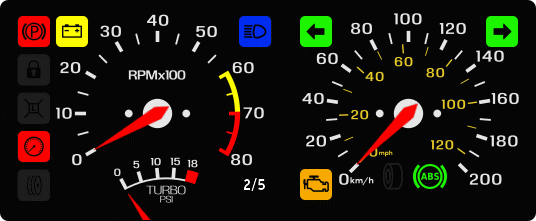 What is this?
- an alternative set of analog gauges for the game.
Install
- make a backup of
\resources\dashboards.zip
- put all files from
add_to_dashboards_zip
folder into your
dashboards.zip
file.
1. Download and install 7-Zip file archiver -
https://www.7-zip.org/
2. Open the mod you downloaded in 7-zip
3. Find the folder where you have Rigs of Rods installed.
- You can usually do this by right-clicking on the shortcut, and selecting "Open file location"​
4. Navigate to the "resources" folder.
5. Find a file called
dashboards
. Make a copy of it.
- Click on it to select it, then press CTRL+C and then CTRL+V​
6. Rename
dashboards - Copy
to
dashboards_backup
7. Open
dashboards
in 7-zip.
8. Go back to the 7-zip window with the mod you opened, enter the "add_to_dashboards.zip" folder.
9. Press CTRL+A to select all the files.
10. Using your mouse, click and hold and drag the selected files from to
dashboards
About
- analog speedo, tacho, turbo, pitch and roll gauges
- mph and km/h versions (selectable in RoR's settings)
- 4k and 8k rpm tacho versions (selected by RoR, based on vehicle)
Screenshots
Known issues
- ABS and TCS lights too bold on vehicles that have them - remove unlit lights from c_bg
- if you encounter any more, please let me know.
Credits
- created in Inkscape
- original dash by pricorde
Please do not use any part of this for anything outside of Rigs of Rods.